FOREWORD DR.HELENE KARMASIN
The title of Barbara Wallner's new catalogue is 'Renewal' which is an appropriate title at this stage of her creative development. The paintings in this catalogue are a development out of her previous work, but take it a step further. Her use of colour is particularly impressive. She draws on a on a broad colour spectrum – glowing or soft, soothing or dramatic and radiant ,merged into exceptional combinations, but always vital and life affirming. Her latest work has the additional characteristic of a floating feather lightness.
Each of these paintings is a microcosm, that shows an individual world of colour and form.
Together they exhibit both a horizontal and vertical dimension combining colour and shape into strongly atmospheric tableaux. They invite the viewer to immerse themselves in a deeper experience that reveals itself under close examination. The first layer of each painting contains a verbally formulated concept that becomes visible in fragments throughout the canvas. Thereafter it seems to incorporate a magical formula that gives the artwork a very special , individual , meaning.
Barbara Wallner's use of abstract and spectral figures in her work is particularly interesting. In her paintings her concern is not the individual but the instantaneous relationships that the figure represents, between people (and) their surroundings and their relationship to themselves.
For me these new pictures are magical and inspiring, full of the energy and vigour that characterise and distinguish her work. They encourage the viewer to enjoy them , to be profoundly involved in them, to be moved by the authenticity and intelligence that is directly embedded in her art.
What can be said of music is also valid here. These works are pure sensuousness transformed into intellect.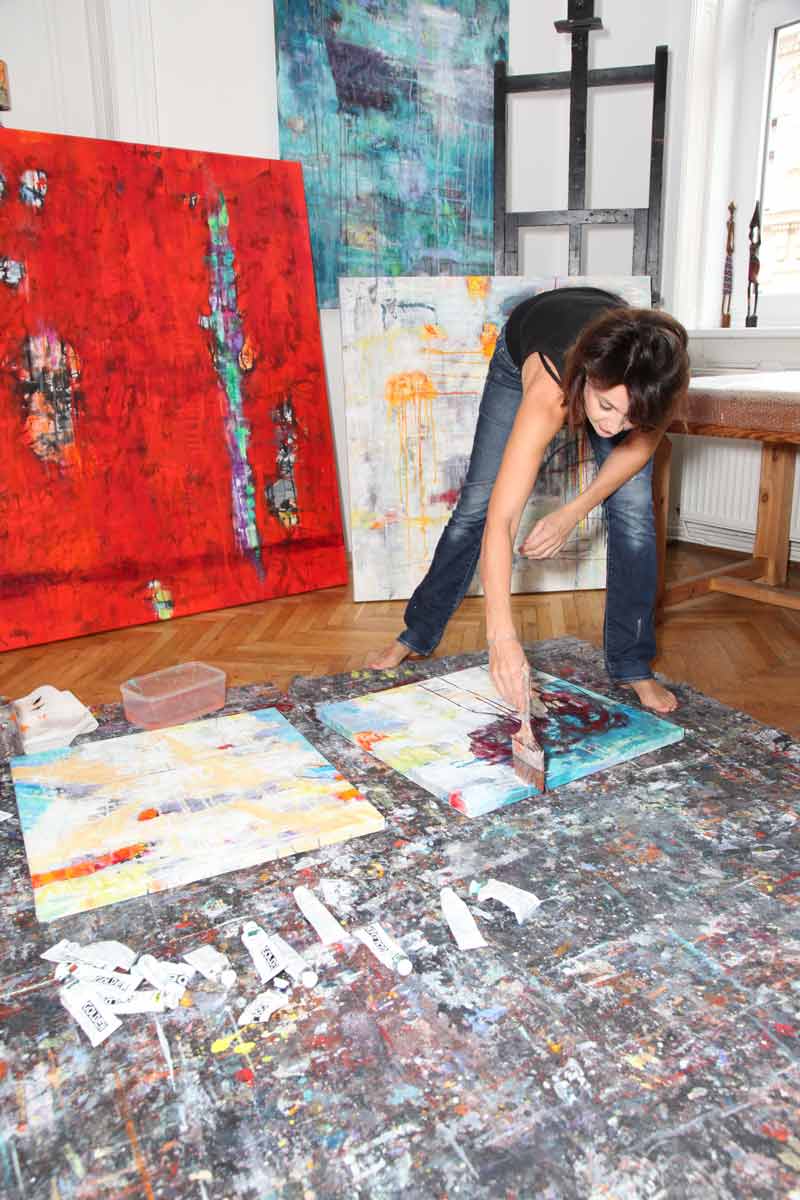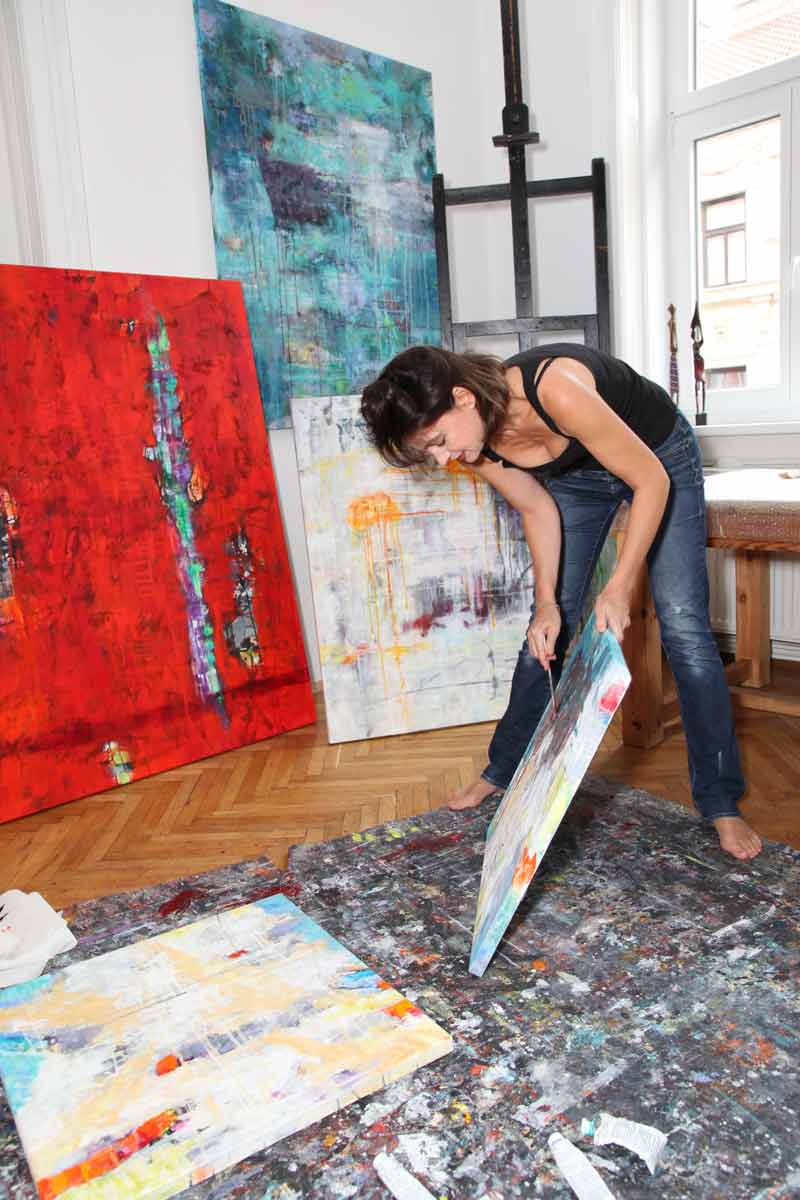 About Barbara Wallner
After an extended stay in Frankfurt/Main and then Los Angeles, Barbara Wallner, a native of Vienna, returned to her place of birth to complete her study of art with, among others, Professor Helmut Margreiter (painting) .
Ms Wallner's Mixed Media technique means that she uses different combinations of oil, egg tempera and acrylic colours as well as a wide variety of materials such as charcoal, crayon, sand, pigments or collages on canvas. She participated at a variety of group and single exhibitions as well as at Int.Art Fairs, such as the Discovery Art Fair in Frankfurt or the International Art Fair in Amsterdam. Her works hang in Austria, Sweden, Germany, Great Britain, USA, Czechoslovakia and the Netherlands.
The artist now lives and works in Vienna.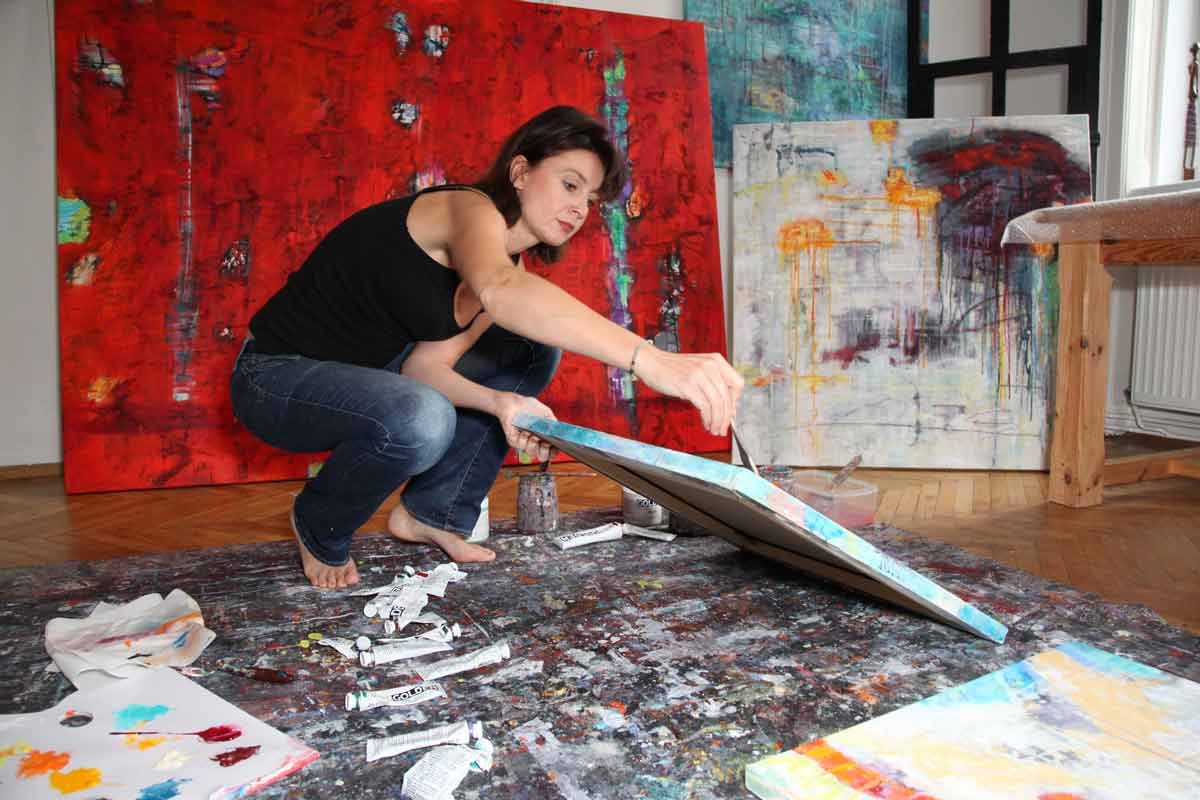 Prof.Helmut Margreiter about Barbara Wallner
"Her intention is to open a window to inquiry, wonder and revelation beyond the borders of external perception.  Her work also bears witness to her love of colour, her intense joy in the interplay of colours with strong contrasts, synonymous with the language of colour. She is interested in identifying herself through her art works and experience a reflection of herself. This is a very interesting path indeed."